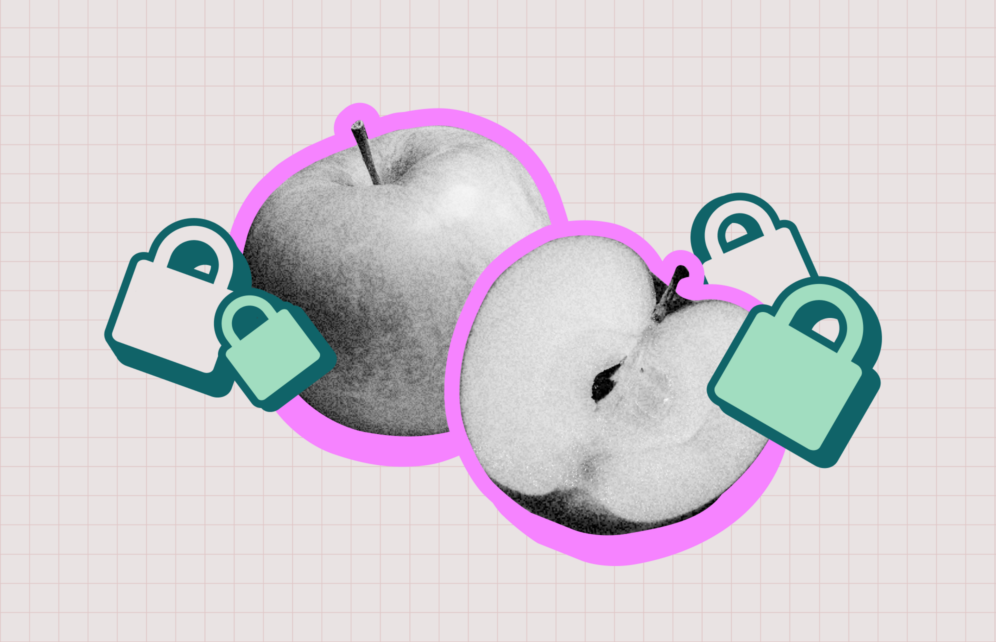 The new iOS 17 is finally out, and with it, Apple has once again strengthened security and privacy for its users. Any iPhone ranging from the iPhone 15 models to iPhone XS and iPhone SE can download iOS 17. From new communication safety features to sensitive content warnings, the expanded Lockdown Mode, and increased control over sharing and passwords, here's everything you need to know about the new iOS 17 security and privacy features.
What's new in iOS 17 in terms of security?
Here are the best new features in iOS 17, designed to make your online experience more secure and protect your personal data.
Phone and Messages
Apple released a document prior to the iOS 17 global rollout detailing all the operating system's new features, revealing that the new iOS has some cool updates to the Phone and Messages apps. And while not all of these features are solely designed for security, many of them can help prevent attacks and privacy breaches.
For example, if you're like most people, you probably screen your phone calls when you don't recognize the number attached to the incoming call. But with Live Voicemail, anytime you get a call but don't immediately pick it up, this feature will immediately start transcribing the voicemail that the caller is leaving on your phone.
This gives you the chance to identify the caller and take the call if you want to. Unknown numbers will go directly to Live Voicemail when a user has turned on the Silence Unknown Callers feature. Additionally, spam calls identified by the iOS will not go through Live Voicemail, as they are automatically rejected.
Apple also expanded the Location-sharing feature. Users can now share their locations or request a location directly from the plus button in Messages with the new Location app. And with Live Location, users can now see the location of friends on Find My Friends at the top of the conversation under their name.
A nice addition to the Messages app is the One-time verification code cleanup. iOS 17 will automatically delete one-time verification codes from the Messages app once you use them with autofill anywhere on your system.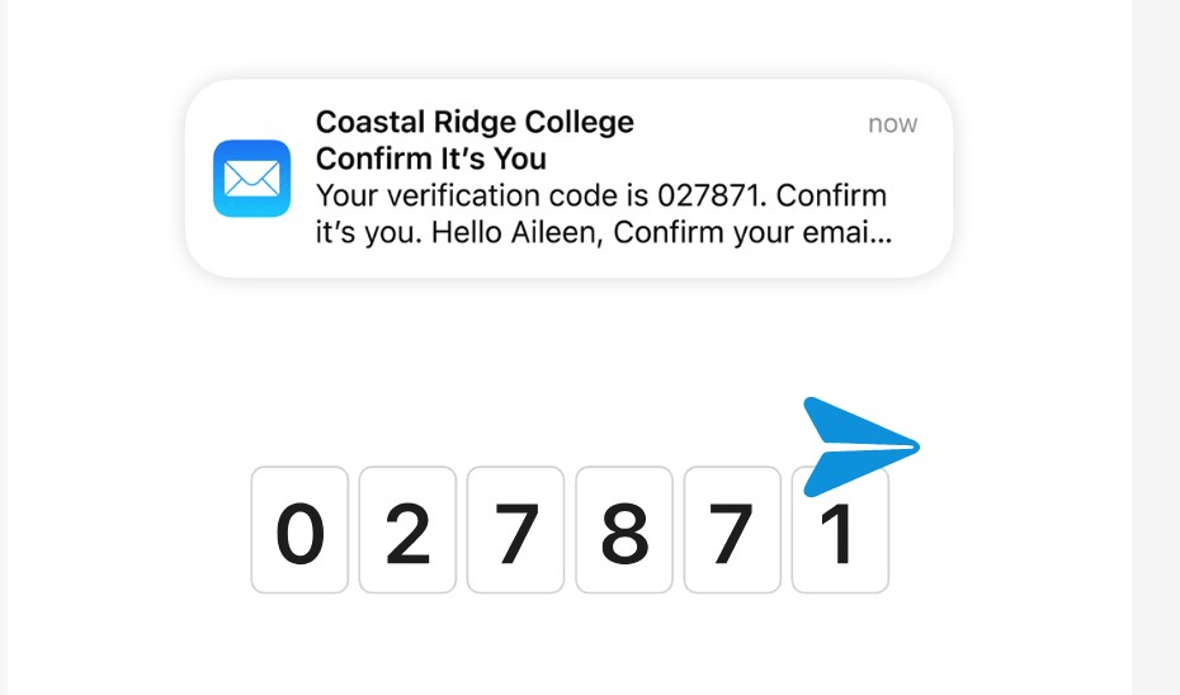 Check In: Stay safe by connecting with friends and family
Keeping in contact with family and friends is a recurrent issue for Apple. Now, with iOS 17, we see new additions along this line.
The Check In feature allows users to inform friends or family members when they arrive at a destination such as work, school, or home. Check In is designed to verify that you have arrived safely and automatically inform your contact of your arrival.
The feature can also be set to Check In for a time duration. According to Apple's description of this feature, "If you will be home alone when someone new stops by to fix a household appliance, when the time is up, simply tap on the Check In Live Activity on your Lock Screen to confirm you are all right."
Check In can also detect if you haven't made progress toward your destination in the past 15 minutes. Once the duration of the check-in ends, iOS 17 will ask you whether you are OK.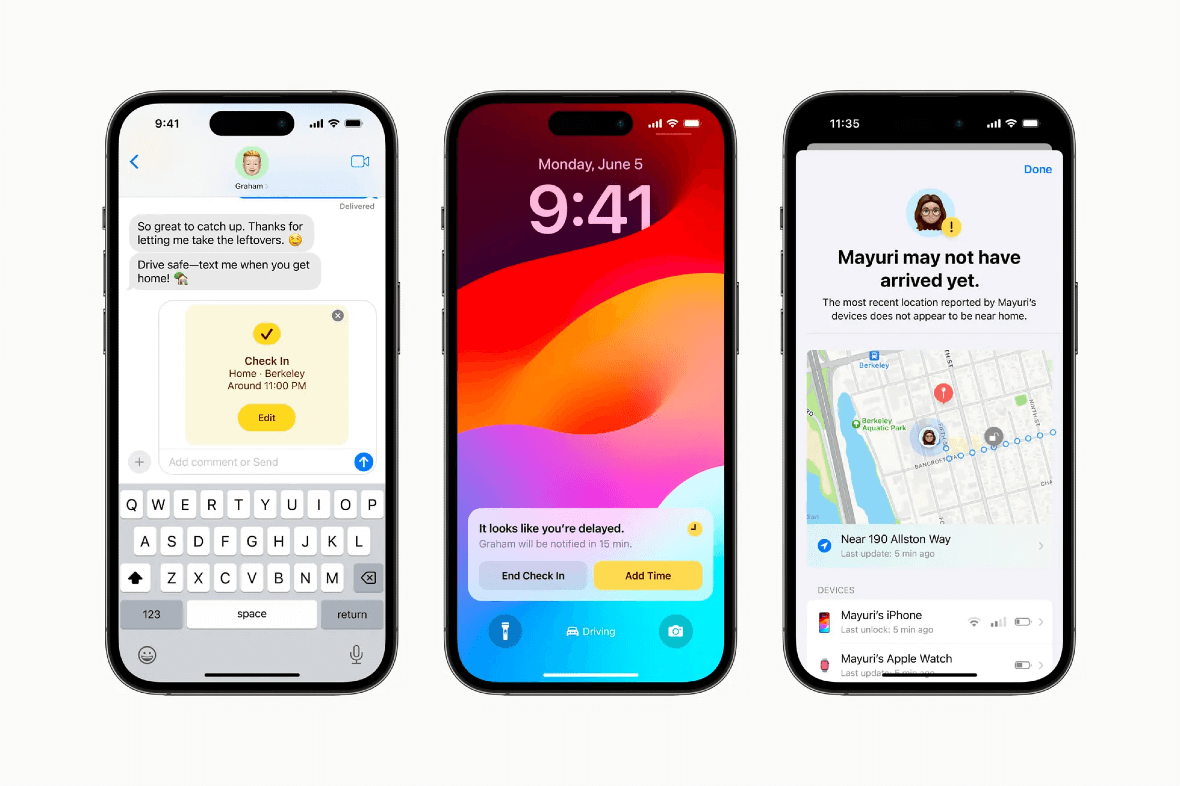 If a user does not respond to a Check In, iOS 17 will automatically share valuable information with your contact, friend, or family, including your current location and your battery and cell phone status.
Apple explains that all the data that is shared with friends or family is end-to-end encrypted, remaining secure and private.
Updates to AirDrop and the new Journal
AirDrop can now be initiated in a new and more convenient way. All users have to do now is put one iPhone next to another to rapidly exchange contact information. The feature also works with Apple smartwatches. Plus, AirDrop transfers will continue over the internet even if both phones are out of range. While this is not strictly a cybersecurity feature, it can be useful for sending contact information and other data safely.
Another new feature of iOS 17 is Journal. This is a new app for users to write their thoughts, experiences, or whatever comes to their mind. Apple explains that Journal is equipped with on-device processing and end-to-end encryption. You can also lock your Journal at any time, preventing anyone from accessing it. If you do block your Journal, not even Apple can read it.
Safari and password-sharing improvements to handle infostealers, tracking, and sensitive content
Most of the Safari security and privacy features that are new to iOS 17 are also included in the new macOS Sonoma.
Users will now be able to maintain different profiles on Safari, and each profile will separately save history, cookies, extensions, and passwords. Profiles can be especially beneficial for those who use their device for work and personal use. This feature was expected to come to Safari, as other web browsers such as Chrome have been offering it for some time now.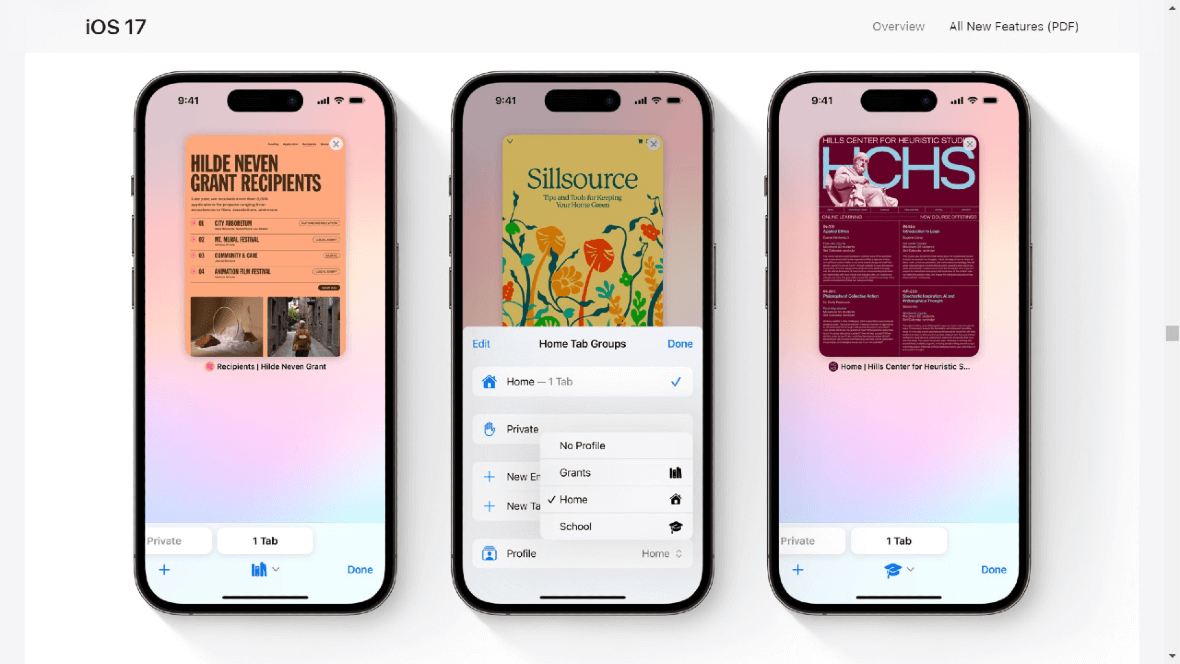 Safari in iOS 17 also has a new Locked Private Browsing option. This will protect your browsing data if you are sharing the device with someone else or leave it unattended, as it only unlocks with Face ID, Touch ID, or your passcode.
Additionally, those who want more aggressive protection can use the Advanced tracker blocking and fingerprint protection in Private Browsing. The new Link tracking protection feature in Private Browsing even removes any tracking data a URL may use to try to identify you.
For password and passkey sharing, users can now share passwords with the people they choose, create a group for sharing them, and edit passwords at any time. To make authentication faster and more secure, when you receive a one-time verification code received via Mail, it will now autofill on Safari.
Regarding communication safety, the Sensitive Content Warning feature gives users the option to blur photos and videos containing nudity.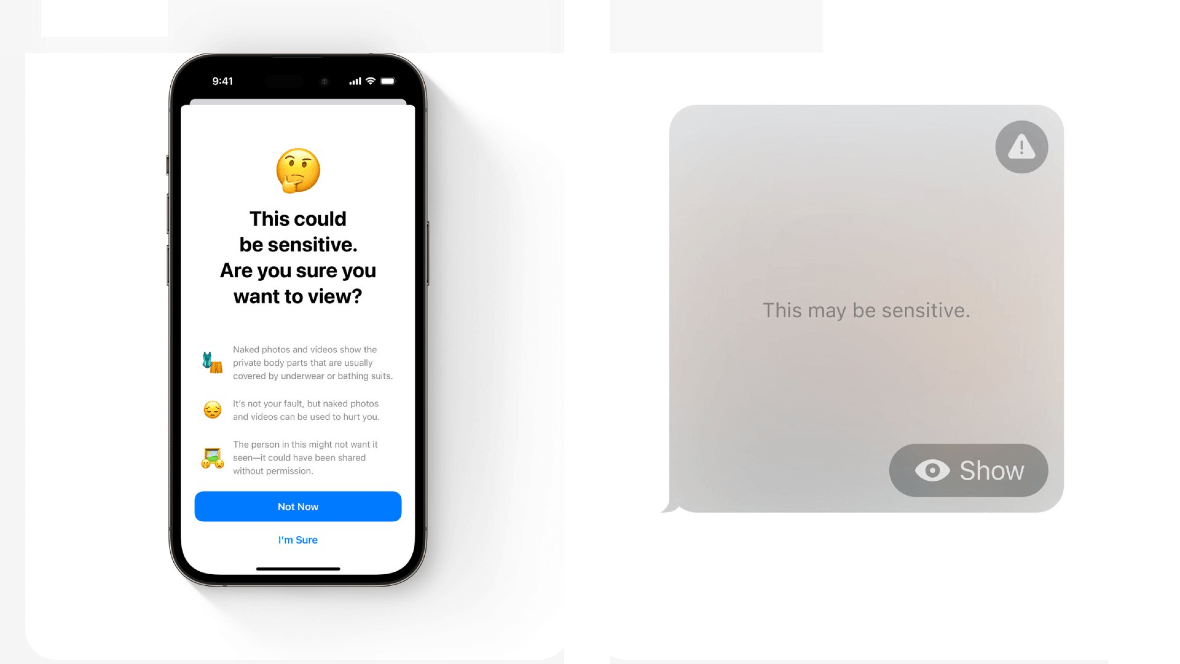 Additionally, new expanded protections for children in iCloud families now protect AirDrop, the system Photo picker, the Phone app when sending or receiving a Contact Poster, and FaceTime video messages.
The new Lockdown Mode and Apple Wallet protection features
Lockdown mode, designed for the most extreme cases of cyberattacks, now provides new networking defaults and increases the safety of media handling and sandboxing. These technical improvements make the feature even more robust, hardening device defenses while limiting functions and making it extremely hard for hackers to breach your iPhone.
Parents will welcome new Apple Cash allowances in addition to features for managing their kids' finances and even their recurring payments, all on their devices. This feature can be accessed from the Family Sharing page. Parents can also share Apple Cards with family members, manage payments, and control child account settings and limits.
Overall, Apple Wallet has several new additions. ID Verifier can be used by businesses and organizations to accept mobile IDs without any additional hardware demands. An ID in an Apple Wallet can also be presented in more places that require identity or age verification.
Wallet also now has enhanced order tracking. Once an order has been added to Wallet from a participating merchant's website, app, or email, users will be able to access the digital receipts directly from the Order Details page in Wallet.
Final thoughts on iOS 17 security and privacy features
iOS 17 brings several new and welcomed features that enhance iPhone users' security and privacy. The common thread in all of these new technologies is not only to increase safety but to make it easier for users to share, browse, communicate, and connect with their friends and family.
By giving users more options, Apple continues to develop interesting security and privacy tech for every kind of user.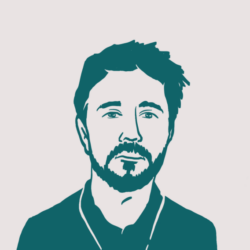 Ray Fernandez