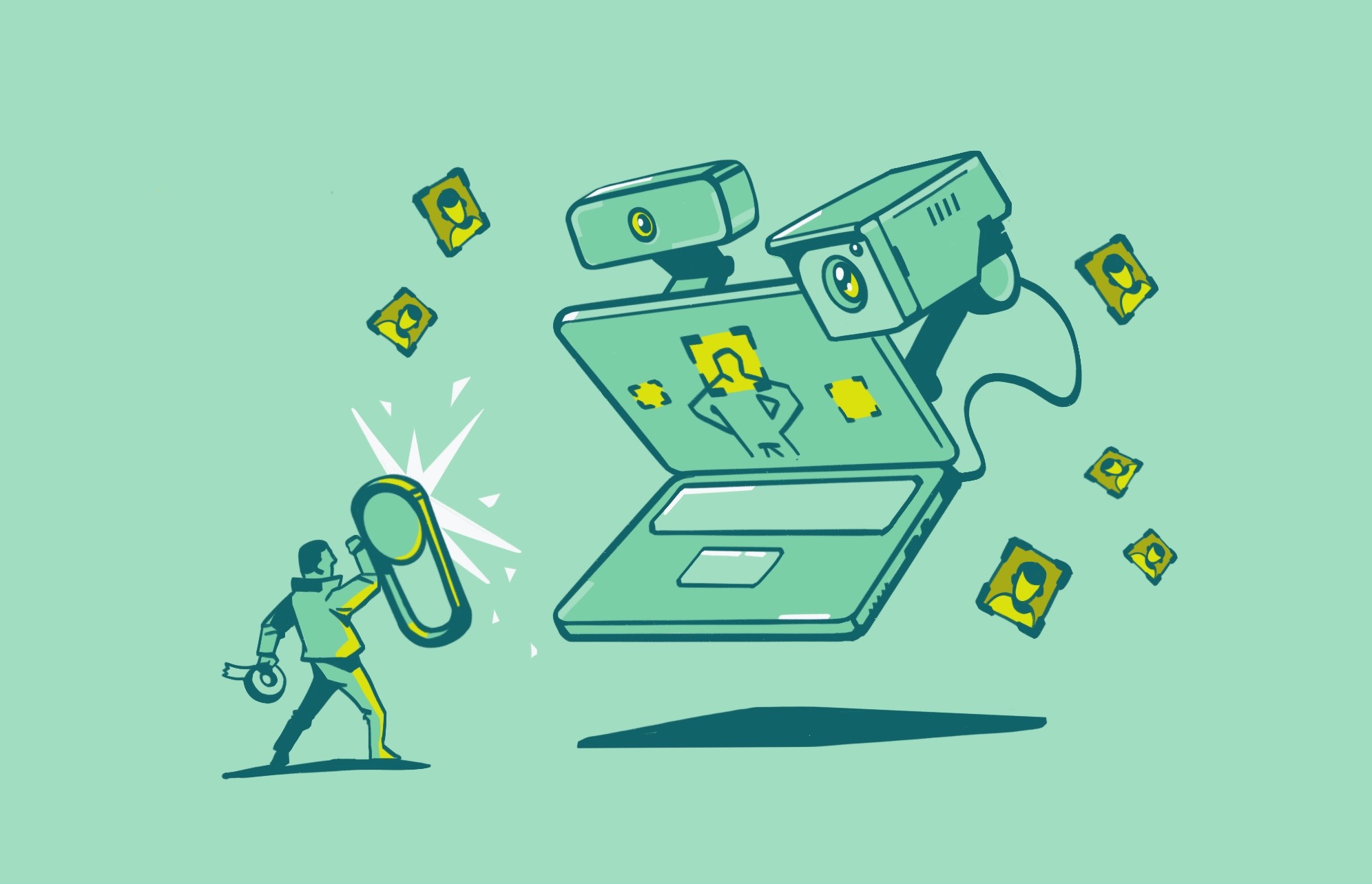 Ever had the feeling that you're being watched when you're using your laptop? Or do you worry when the webcam light flickers? A camera lens, even a small one, always open and staring back at you, can generate that feeling. While it's almost always unfounded, spyware and hackers can easily access your webcam. A good laptop webcam cover can put an end to these risks.
Do you really need a laptop camera cover?
In 2016, FBI Director James Comey recommended that users cover their webcams, as reported by The Hill. While webcam privacy protection has come a long way since 2016, there are still many good reasons why you should cover your camera.
The first and most apparent is to prevent hackers or cybercriminals from accessing your video or image data. Additionally, if you have children, you might want to consider blocking it just to be on the safe side. On the other hand, in today's hybrid work reality, users are hyperconnected, and forgetting to hang up after a meeting could leave your camera wide open. Additionally, security clearance jobs might mandate in-office camera blockers.
Some laptops, like the Lenovo Thinkpad, have built-in webcam covers. Others, like Macs, don't. Mac notebooks do not have built-in camera covers because they are engineered so that the camera can't activate without the green indicator light also turning on. However, Apple does give suggestions on the technical details for a camera cover for a Mac.
Can someone watch you through your computer camera?
The short answer is yes. A hacker can access your camera using spyware, trojans, and other types of malware to gain remote access. Accessing a webcam can be done by installing malware on a victim's system without their knowledge by gaining physical access to their device or by tricking them into downloading or clicking on malware that installs without their knowledge.
A hacker can also access a device by connecting to an unsecured Wi-Fi network that the victim is using. Metasploit — the world's most popular penetration testing framework used to safely simulate attacks on your network and uncover weaknesses — is just one of the endless tools that can be used to do a webcam hack in just a few simple steps.
Furthermore, as the latest HP Wolf Security report reveals, cybercriminals sell "plug-and-play" malware kits that hackers can buy cheaply on the dark web. These kits do not require any technical knowledge and include spyware malware that can access your webcams.
Does a camera cover help protect your privacy?
The answer depends on what you use as a camera cover. Some people just place a piece of paper or tape on the webcam. This may not be the best solution, as some light may still pass through the material. Fortunately, several good camera covers can be bought online that are efficient yet affordable.
On the other hand, camera covers thicker than 0.1 mm can damage your Mac display because the clearance between the display and keyboard is designed for tight tolerances. Apple recommends either using a camera cover that is not thicker than the average piece of printed paper (0.1 mm) or removing the camera cover before closing the computer.
More importantly, you should know that your camera cover will not provide a solution to eavesdropping. Cybercriminals can hack into your microphone and listen to your conversations, even when they do not have video feed access.
What's the best MacBook camera cover? Here are our 10 favorites
When choosing the best MacBook camera cover, you should always look for quality and compatibility. Some covers are attached magnetically, eliminating the need for adhesives. Others have 3M adhesives. These, unlike other types of adhesives, are quite strong and remain in place but are easy to remove without leaving residue.
As mentioned before, you want a thin webcam cover for your MacBook. This ensures that the computer will close correctly without damaging your screen. Finally, webcam covers come in various styles. Depending on your taste, you can go for small, unnoticeable, designed, or bar-style covers.
1. Alinko Yilador Webcam Cover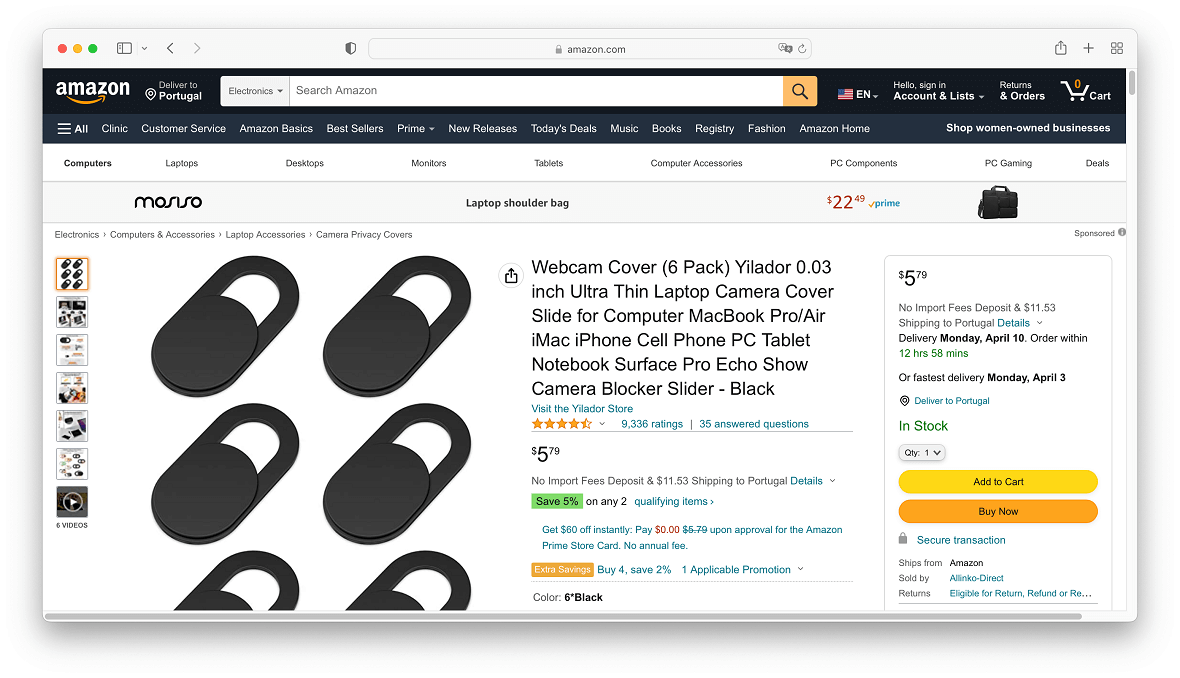 The Allinko Yilador webcam cover is one of the most-sold covers for Mac, and for good reasons. It is easy to install, easy to use, and durable. It is also relatively affordable.
Using this cover will allow your computer to close without interference or damage. To install it, all you have to do is peel the protective layer, revealing the adhesive and sticking it in place. You can easily adjust it if necessary. The laptop camera cover slide moves with ease, blocking the webcam. The cover comes in a nine-pack for under $9, and you can use it on iPhone, iPad, or Mac. You can also order a 6-pack or 3-pack customized with stickers if you are into more colorful designs.
The downside is that it may affect face recognition in some iPhone models and is not recommended for full-screen phones. Despite this fact, it is a popular option that does the job as a webcam cover without any complications to worry about.
Allinko Yilador Webcam Cover on Amazon
2. Targus Spy Guard Sliding Cover
The Targus Spy Guard Sliding Webcam Cover is a great option for MacBooks and other devices. Its boxy, modern design is slightly more stylized than most miniature webcam covers.
The Targus cover applies with 3M adhesive and is compatible with MacBooks due to its slim depth size of 0.07 inches. The sliding mechanism is more user-friendly than other magnetic sliding webcam covers and can open and close fast, which comes in handy during meetings. The cover comes in three colors: black, white, and gray. You can also install it on your iPhone or use it as a camera cover for iPad devices.
The downside is that the Mac-compatible versions of the Targus Spy Guard Sliding Webcam cover can only be bought when ordering the 10-Pack, which costs about $25. Pricy but modern and efficient, the Spy Guard is an excellent webcam security option.
Targus Spy Guard Sliding Webcam Cover on Amazon
3. Eyeblock Professional Webcam Cover
The Eyebloc Professional Webcam Cover for MacBook sells per unit at $16.65 and can be bought in a pack bundle for $24.99. It is specifically designed for all MacBook and MacBook Pro Models. This cover is unique because of its more elongated shape and because it uses the magnets of the Mac to secure itself into place.
The Eyebloc also opens and closes with ease. The company claims it is the thinnest webcam cover on the market at only 0.005 inches. Once it is placed on your Mac, it is almost unnoticeable.
The downside of this product is that it's on the somewhat expensive side. Other than that, this is the best way to go if you are looking for a Mac-styled cover and want to avoid adhesives. You can get them in a bundle on Amazon.
Eyebloc Professional Webcam Cover for MacBook on Amazon
4. Eyeblock Nanobloc Univeral Webcam Cover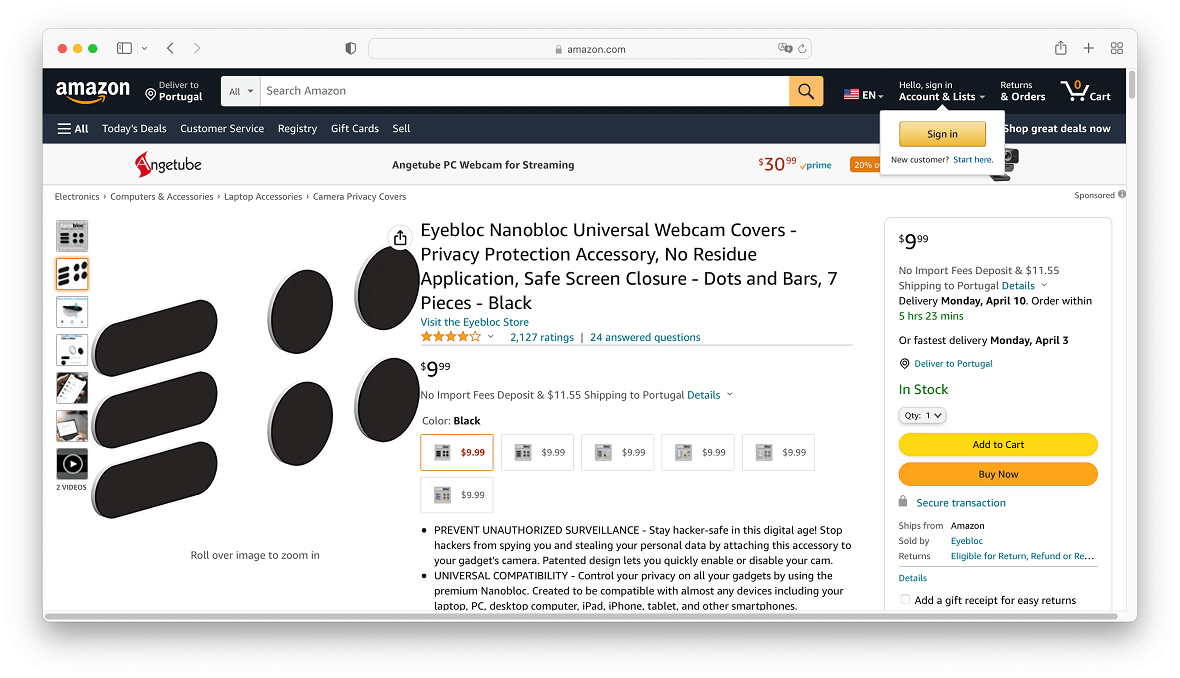 The Eyebloc Nanobloc Universal Webcam Covers is a set of 7 pieces that can block a webcam without adhesive or magnets. Smaller and thinner than a dime, these microdots and microbars can attach to your Mac, iPhone, or iPad using nano suction technology. Nano suction tech uses vacuum, negative fluid pressure, and nano-sized suction cups to securely adhere any object to a surface, in this case, your device.
The cons of these nano block webcam covers are that they do not open and close by sliding. You have to manually remove the nanodot or bar from the webcam and place it on the side to use the webcam. The nanodot will also lose adherence if it gets dirty or dusty, but the manufacturer says a rinse of water and a rapid dry is all you need to get them sticky again.
These covers sell for under $9 and can also be found in a bundle with the exclusive magnetic webcam cover for Mac for $24.99. This brand also sells Nano Suction webcam covers with different designs and emojis, which have become very popular.
Eyebloc Nanobloc Universal Webcam Covers on Amazon
5. S Mosench Webcam Cover Ultra Slim
If you are looking for something simple, affordable, and slightly customizable, the S Mosench Webcam Cover Ultra Slim, at $9.99, is a good option. It is MacBook compatible and comes in four colors: green, pink, white, and black.
This webcam cover comes with 3M adhesive and is 0.027 inches thick. The webcam cover slide is designed in a very convenient way. It will fit on Apple products but may not fit on other brand devices, so if you get a pack, make sure you use them all in Apple products.
S Mosench Webcam Cover Ultra Slim on Amazon
6. Privise Webcam Cover All White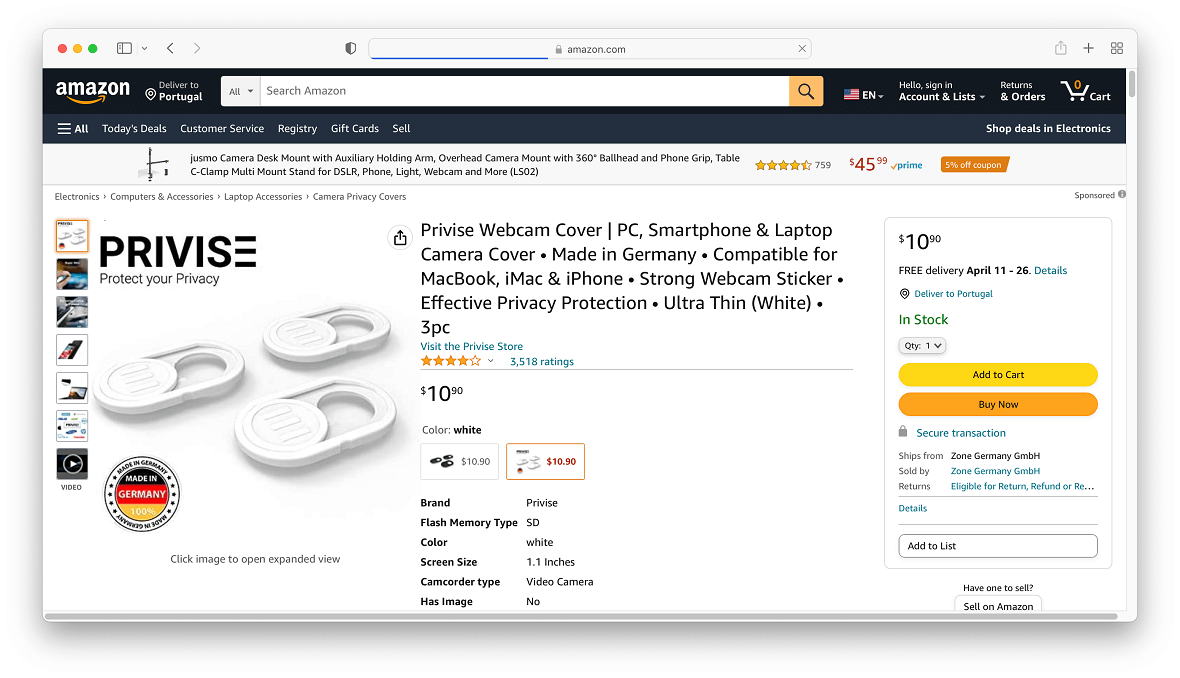 Privise has several computer camera cover models, but the all-white ultra slim is a customer favorite. You can get the Privise Webcam Cover on Amazon for just $10.90. It comes in a pack of three units and is also available in black if you prefer that option.
Like most webcam covers, the Privise uses 3M adhesive, meaning that if you decide to remove the cover, it will leave no residue. Privise is a product manufactured in Germany and stands for durability and quality.
Privise Webcam Cover on Amazon
7. SIREG Webcam Cover with Designs
For those who prefer colorful accessories over plain, easy-to-miss webcam covers, blockers featuring emojis and designs have become hot items. The SIREG Webcam Cover Ultra-Thin sells from $6.99 to $7.99, depending on your chosen design.
Designs aside, these webcam covers have all the same characteristics as the top-selling products. They are adhesive and ultra-slim, making them compatible with MacBook and other Apple products.
SIREG Webcam Cover Ultra-Thin on Amazon
8. SIREG Webcam Cover Ultra Thin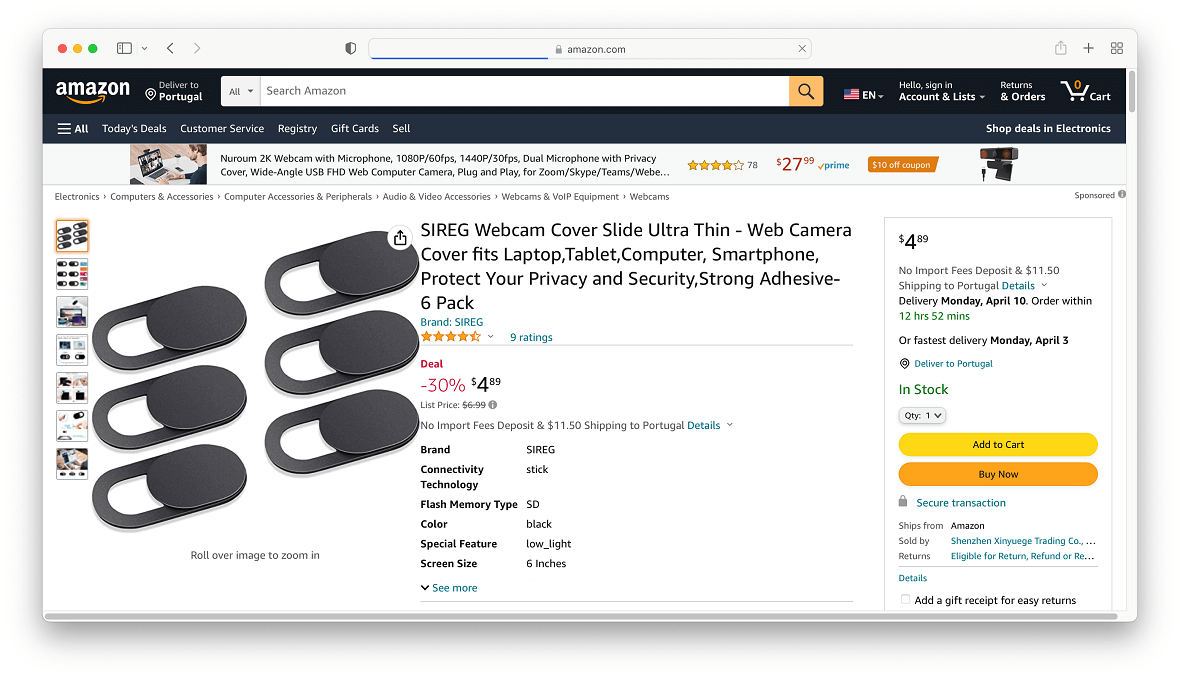 On the other end of the spectrum, the SIREG Webcam Cover Ultra-Thin comes only in black and sells in a sick pack on Amazon for $7.68. This is as cheap as a webcam cover can be without it being adhesive vinyl.
The SIREG is made of ABS plastic — and impact-resistant thermoplastic — that is opaque. Once installed, it's tough to even notice it is there. This adhesive webcam cover opens and closes like a slider and measures 0.03 inches, so it should work smoothly on your MacBook and other devices.
SIREG Webcam Cover Ultra-Thin on Amazon
9. Silent Pocket Webcam Privacy Stickers
If you need to block out several MacBooks at once, you might want to consider Silent Pocket Webcam Privacy Stickers. Although stickers may not sound like the best way to go, these are not normal stickers. Rather, they are specially designed to block webcams, leave no residue when removed, and can be reused several times.
These webcam blockers come in two sizes and can be bought in white, all-black, or gray. For $15.95, you get 24 premium webcam cover stickers. As said before, if you run an office and need to secure several computers simultaneously, this type of solution is affordable and scalable.
Silent Pocket Webcam Privacy Stickers on Amazon
10. Eioflia 6PCS Webcam Cover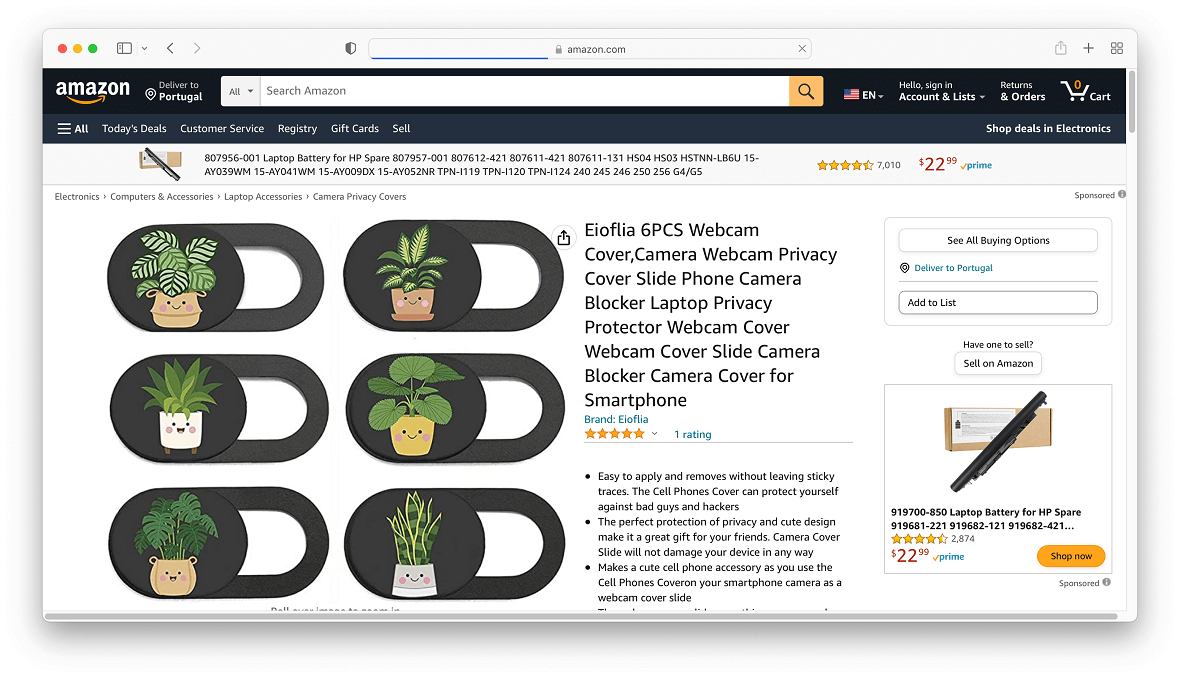 Another good option if you are looking for an original design is the Eioflia 6PCS Webcam cover, which has several anime-style plant designs to give your webcam security a relaxed, fun twist. The Eioflia is another 3M adhesive webcam cover compatible with iPhone, MacBook Pro, iPad, tablets, cell phones, and other devices, and it is as functional and durable as the most expensive models.
Eioflia 6PCS Webcam cover on Amazon
Many webcam covers sold online can improve your security and help you put to rest any concerns you might have about webcam privacy. Several of these webcam covers sell so well that manufacturers tend to run out of stock fast. This alone speaks of how popular webcam covers have become. In the end, whether going with magnets, adhesives, or mixing it up with some creative designs, you'll find that these covers all deliver on their promise to your MacBook's webcam stream inaccessible to prying eyes.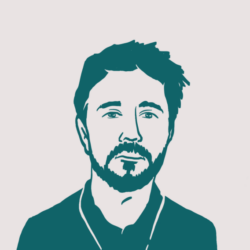 Ray Fernandez