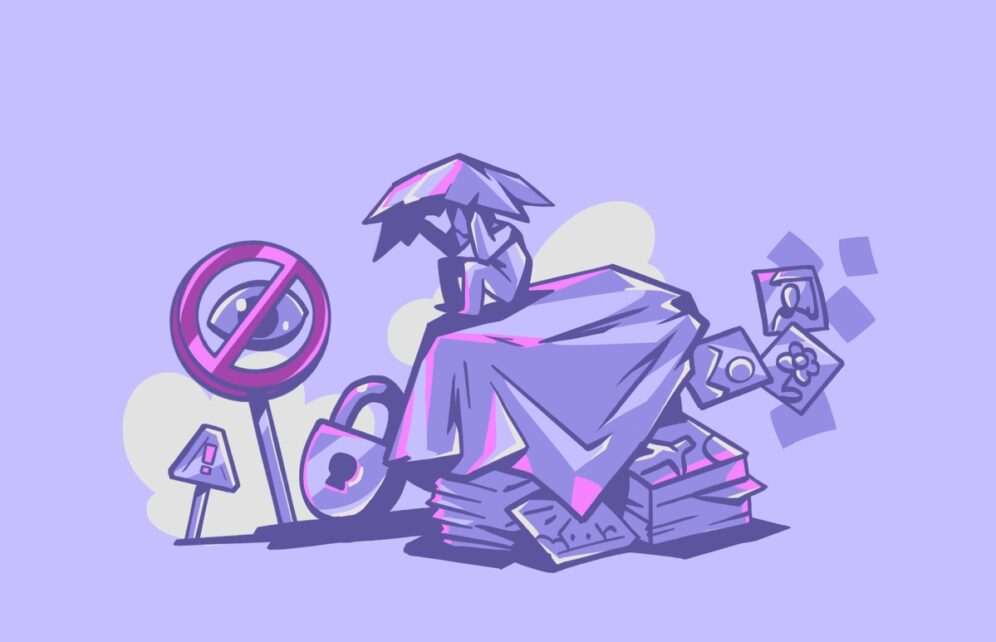 In a world where online privacy is getting harder to come by, users must do all they can to protect what's theirs. Thankfully, you can use some handy photo hider apps to keep all your most personal photos and data safe and sound.
The following are some of the top photo vault apps available today. You can download all of these apps for free, but you must sign up for a plan to use all the features. Most of them offer a free trial period with limited access and features.
The photo vault apps that help you hide your iPhone pics
These are our favorite apps that help you hide photos, lock them with a password, and create secret folders.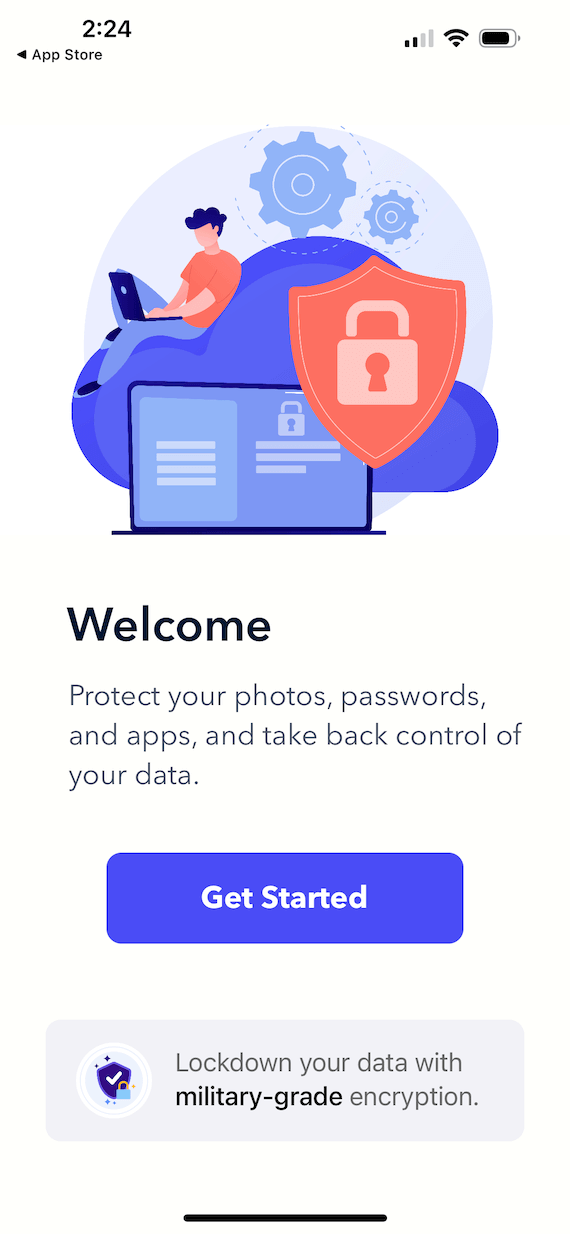 HiddenVault is a photo hider app that is more than just a photo locker. It also provides an iCloud backup, a private browser, a built-in password vault, and a decoy photo gallery to fool intruders. Plus, the app does not store or save any of your private data, which is critical when you want absolute privacy. You can secure your photos and apps using FaceID or a PIN code.
HiddenVault has a 4.7 out of 5-star rating on the App Store. You can download the app for free, but to use all the best features, you must sign up for a pricing plan from $2.99/week to $34.99/year. The premium plan is billed monthly and includes all features.
The best part is that the app is a breeze to set up and has a very user-friendly interface. Within seconds, you set up a PIN code, create your first vault, and add photos.
Hide Photos Videos HiddenVault
2. Private Photo Vault: Keeping your photos private
Private Photo Vault is another stellar application to hide photos. More than half a million people use it to secure the most private areas of their iPhones. The features include locking photos and videos, a private camera, a break-in report, and a decoy password. You can access support directly from their website.
Private Photo Vault is listed as the number one iOS app for photo privacy on its homepage, and the app has 4.8 out of 5 stars on the App Store.
Private Photo Vault – Pic Safe
3. KeepSafe: An easy-to-use photo vault app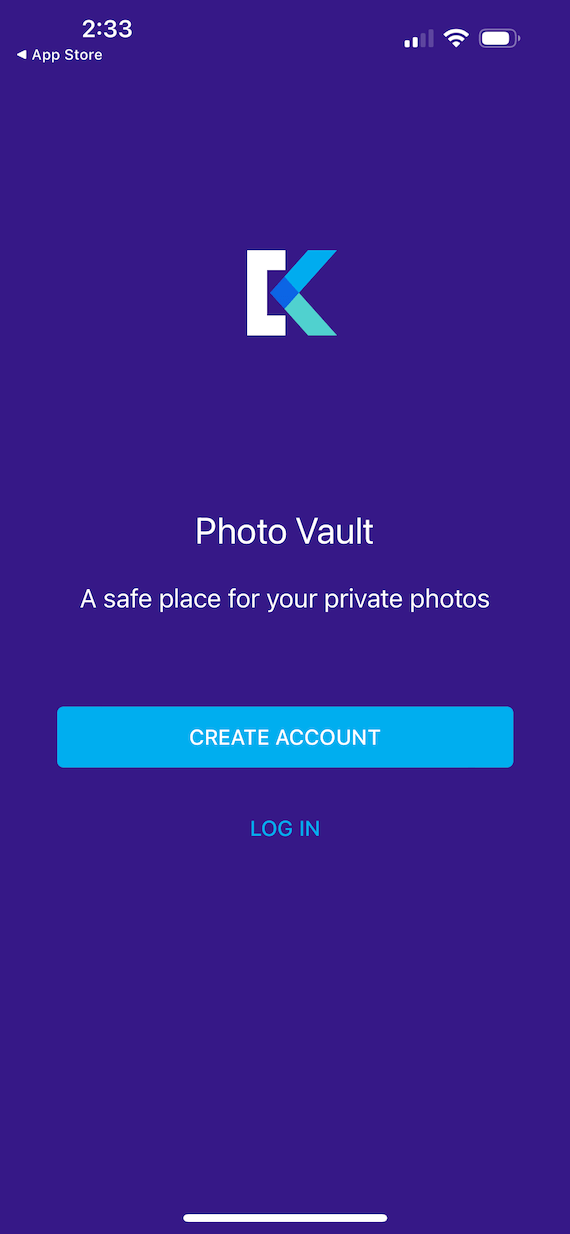 KeepSafe photo hider app has over 70 million users and boasts an elegant interface and easy-to-use design. Along with protecting your photos, you can also secure your ID, driver's license, credit cards, and more. KeepSafe uses a PIN code for security, and you can keep up to 10,000 items in the secure cloud storage.
When you install KeepSafe, you must create an account or log in. Then, you create a 4-digit PIN, and you are set to go. You can add photos or files to your main album immediately, but you must allow "all access" for it to function as intended. The interface is plain and simple but gets the job done.
Keepsafe-Photo & Video Storage
4. Locker: Hide photos, videos, apps, and sensitive documents
With a 4.5-star rating on the App Store, Locker is a photo hider application that vows to keep all your photos, videos, files, and notes safe using a PIN, FaceID, or TouchID.
You can lock specific apps and export your files from inside the app with one tap. It even includes a photo viewer and a video player. Plus, unlike many photo hider apps, it's free to use.
5. Secret Photos KYMS: Media lock vault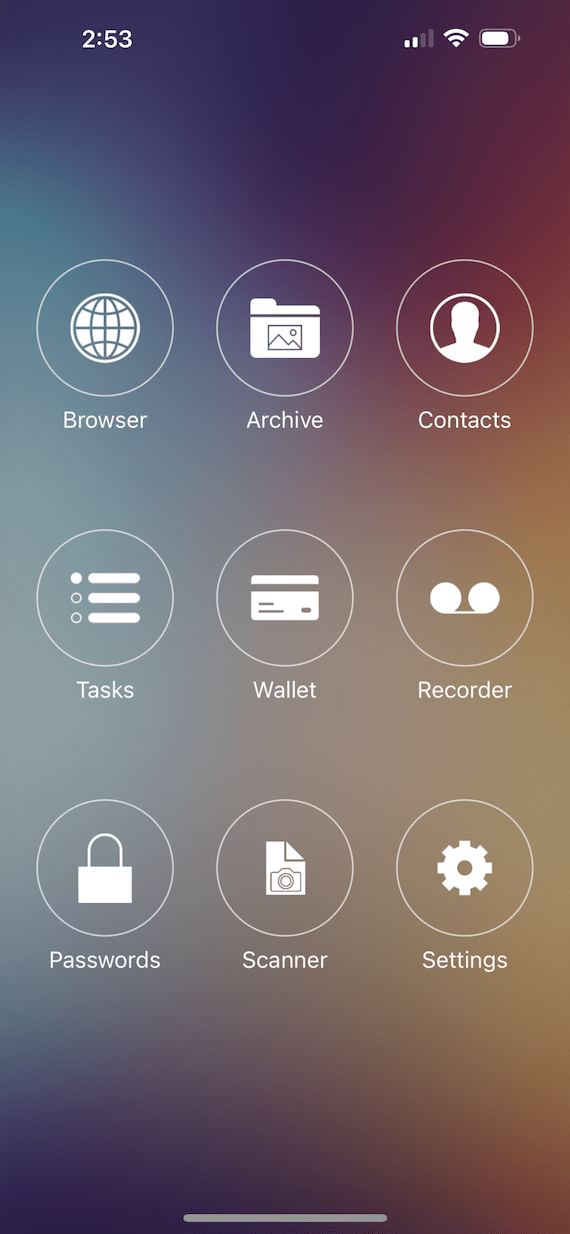 Secret Photos KYMS utilizes a unique approach to privacy by using a decoy app to hide your photos and videos. Disguised as an unassuming calculator app, it is designed to trick anyone who picks up your phone and attempts to get into your secret photos. After all, who would think to look for photos inside a calculator?
Secret Photos KYMS includes a built-in video player and picture viewer, and you can secure other documents within the vault. Plus, the app makes it easy to create customized collections of photos, videos, or files to keep safe. It uses a unique PUK code for password recovery. The interface is sleek and modern, with icons on the home page to direct you to whatever area you need to secure. The app is free to use, but you can remove the ads and access premium features with a subscription.
6. UPDF Photo Lock App: Scan and secure files
UPDF is a lock photos app on your iPhone that you can use to secure content you don't want anyone to see. It's worth noting that UPDF is, first and foremost, a PDF editor that allows you to view, annotate, share, and manage secure documents. However, it also allows you to secure photos and other content using its Security Space feature. The app has a 3.9 rating in the App Store.
7. Safe Lock Photo Album: The secret folder app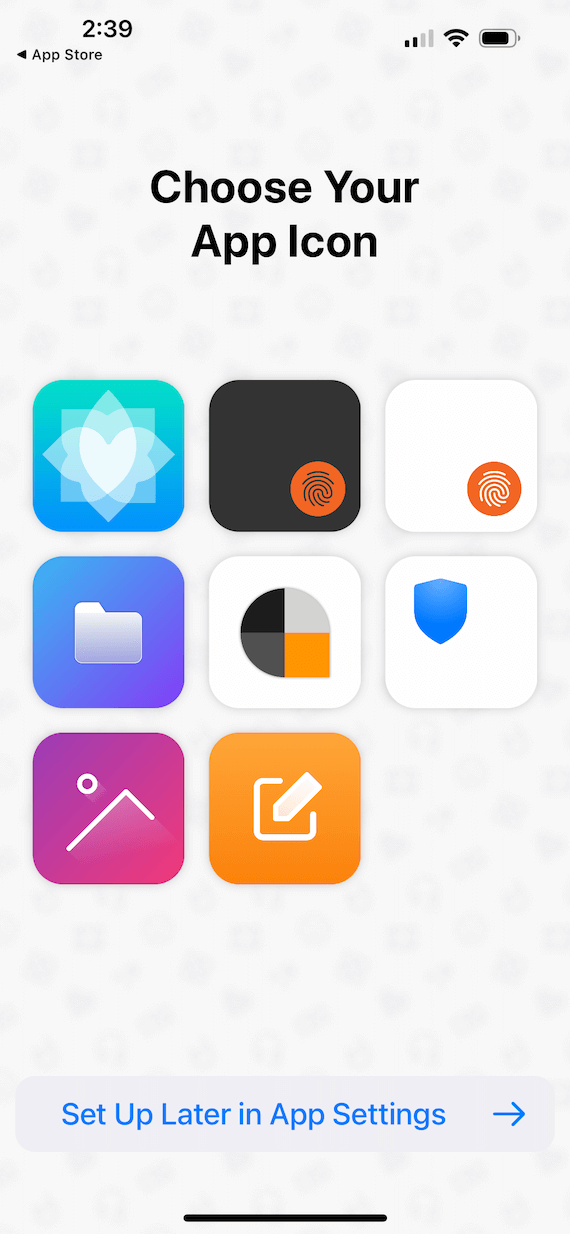 Another option for hiding your personal stuff on your iPhone is the Safe Lock Photo Album. The app shows a 4.8-star rating on the App Store with 22k reviews. You can secure your data with a PIN code, TouchID, FaceID, DotLock, or numeric and alphanumeric passwords. The app uses a fake gallery to trick intruders.
Using secret folders, you can organize your videos, notes, files, and pictures into secure vaults. You can even capture images using the built-in camera, which goes directly to your secure photo album. You can also store private documents like passports, IDs, driver's licenses, bank cards, etc. Use gestures to immediately lock your photos or hide an app from prying eyes.
Built-in slideshow and sharing tools in Safe Lock Photo Album allow you to share your secret photos with anyone. Additional security options include an anti-theft feature, which sends you break-in reports whenever someone accesses your hidden folders without your permission. You can also customize the app icon to fool anyone nearby. The app is easy to use and well-designed, with lots of advanced features.
8. LockMyPix: The private photo vault
LockMyPix is an essential photo hider app with AES CTR encryption to keep your iPhone's photos, videos, and documents safe. The LockMyPix application has a 4.8 rating in the App Store.
Some useful features include military-grade encryption, a photo vault, a video vault, and a fake vault to use if you are forced to open it. You can also make the app invisible to prying eyes with a quick settings change, and you can use FaceID or TouchID to unlock your files.
9. Hide It Pro: Hide photos, videos, and apps on your phone
Hide It Pro secures iPhone photos, videos, music, and apps. You can use your password or fingerprint to lock and unlock files. All your data is encrypted to prevent unwanted intrusion. Hide It Pro has a 4.7-star rating in the App Store with more than 21k reviews.
The developer of Hide It Pro says more than 20 million people use the app. Other standout features include private browsing, secure notetaking, secure chats, and stellar 24/7 support.
Hide Photos Video -Hide it Pro
10. Vaulty: Protect your media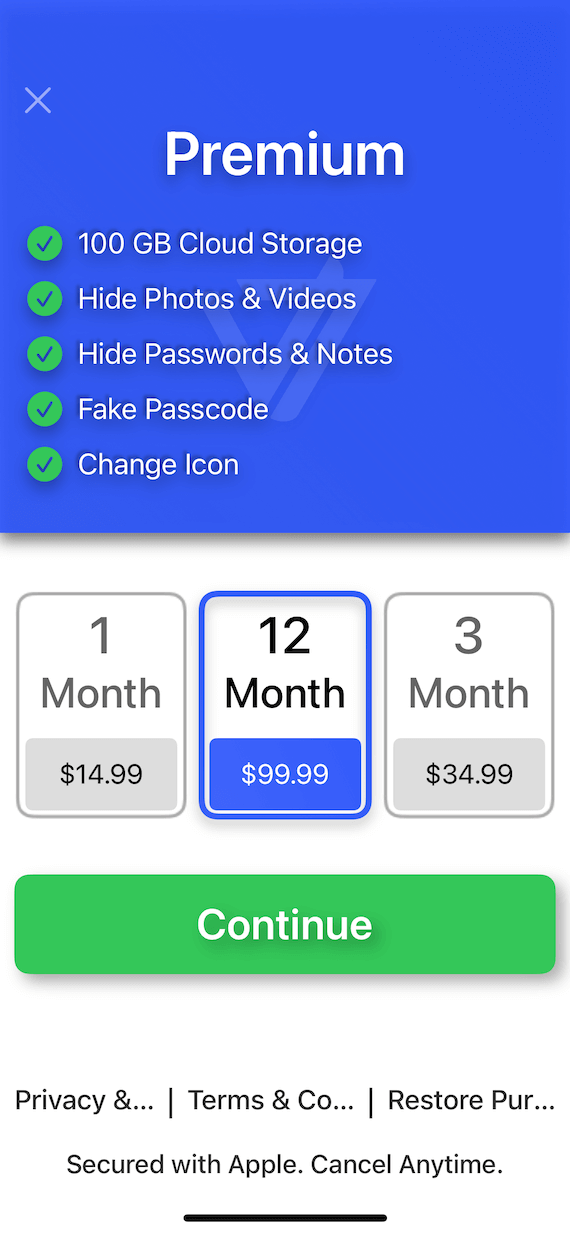 Vaulty is the ultimate secure photo lockbox and photo hider. Some of the features include a private gallery for your photos, secure password protection, and automatic backup. If someone does breach your vault, the app automatically snaps a mugshot of them, so you know who the culprit is.
The app is beautifully designed with an easy-to-use interface, and you can easily create multiple vaults to manage your private assets. Use the built-in camera to take secure photos. The app includes powerful organization, sorting, and searching features. Plus, built-in filters allow you to edit your photos and share them with ease.
You must sign up or sign in to begin using the app, and right off the bat, you will see pricing for premium plans. You can begin using it for free, but you will need a plan if you want to unlock the most crucial features. The app has a lot of configuration settings and options.
Vaulty – Secure Photo Lock Box
User privacy has become a major buzzword in the cybersecurity industry. Even with the impressive built-in security features on the iPhone, sometimes you need more. Fortunately, any one of the apps above can give you more peace of mind by segregating and securing your most vulnerable assets.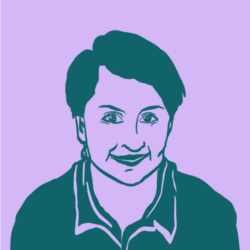 Dawna Roberts