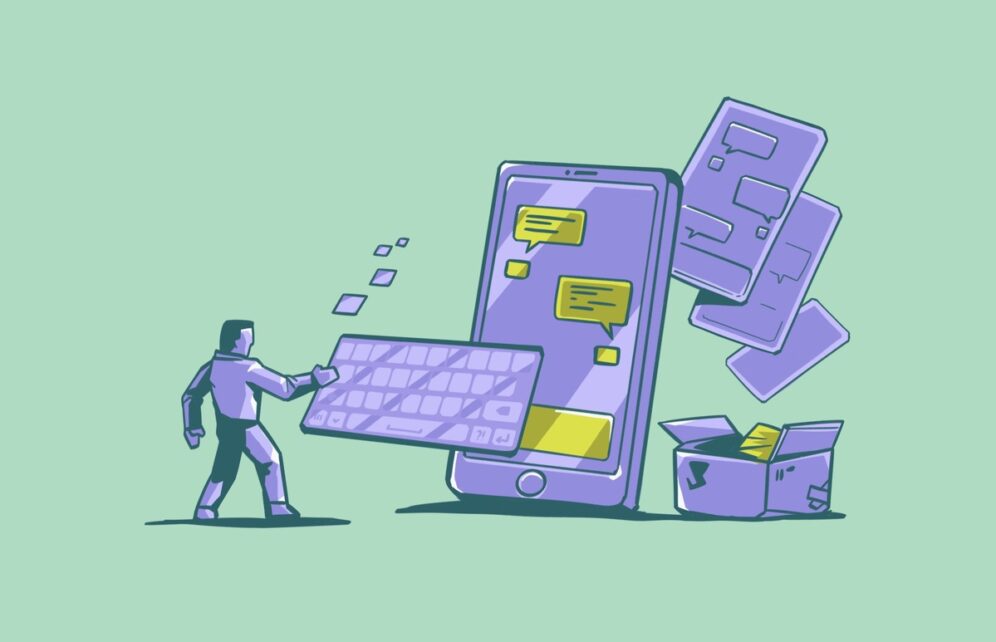 As the post-pandemic world continues to adopt remote and hybrid work models, employers are seeking ways to keep an eye on their staff when they aren't physically present in the office. This can mean anything from more frequent sync calls to installing spyware on work computers. At some point, your employer might want to install an app like Spyrix on your MacBook to better track how you spend your time. But what if you found Spyrix on your Mac, and you don't recall anyone at work mentioning it? Let's talk about what Spyrix is, how it works, and how to remove Spyrix when it's unwanted.
What is Spyrix Keylogger?
Spyrix is free spyware that anyone can install and run on any device. Using Spyrix without the permission of the user is illegal, and the company that created and distributes the app makes this quite clear.
This software does more than just record and register keystrokes. The person using the app can also access all data on the device they are spying on via a web account. The account holds all the monitoring information on the Spyrix dashboard.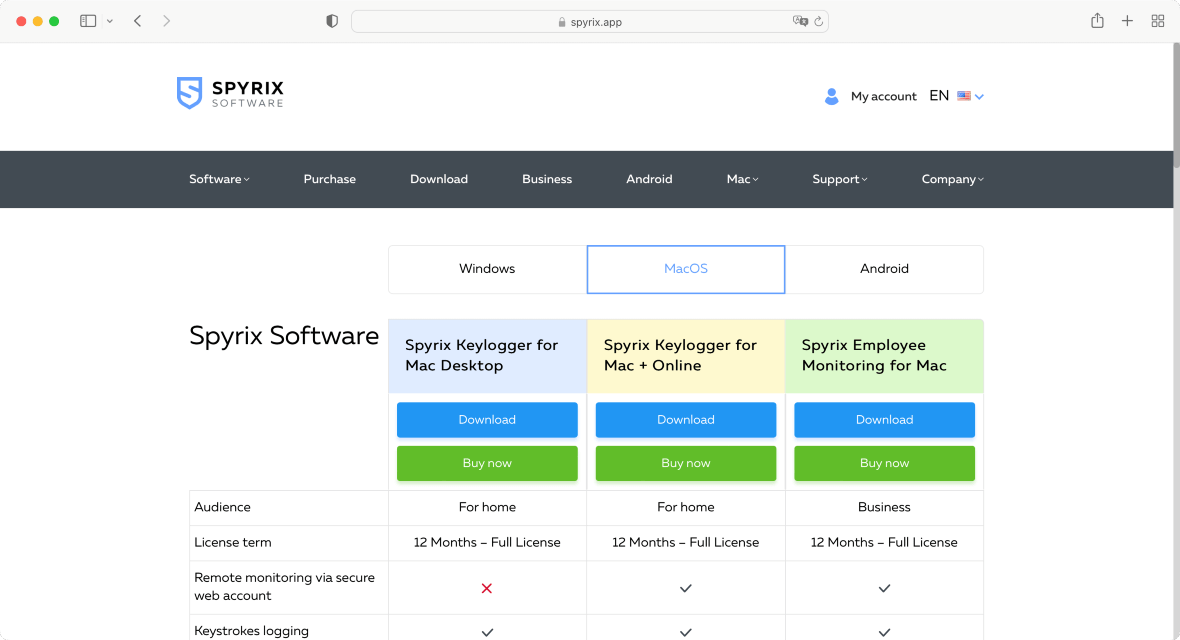 What is Spyrix Keylogger used for?
Spyrix can record everything a user types on their keyboard, take screenshot captures, do live screen hacking, and remotely turn on your webcam.
Additional features include:
Application activity: Reveals live running programs
User activity: Registers who uses the device and when they use it
Remote installation: Installed on remote devices via Web access
Search services monitoring: Can recognize search terms
External devices: Can spy on USB connections, printer activity, and removable drives
Invisible mode: Runs in the background and does not show in the list of running and installed applications, desktop tray, or Start menu
Keyword alerts: Can detect specific keywords and issue alerts
There are many ways spyware can end up on your computer, smartphone, or other devices. To install the app, someone had to download it and run it either physically or remotely via the web. Your remote work company may have installed it if you agreed to the use of remote employee monitoring programs. Additionally, if you are underage, your parents may have downloaded it.
Other than that, you may have installed it without knowing what it is. Or you may have been tricked into installing it. Apps can be installed by downloading them, clicking on a link, or even visiting a website and granting permissions or accepting updates. You should also check for bundled apps when doing downloads. This is a common way unwanted apps can get into your devices.
Is Spyrix malware?
Malware, by definition, is coded to spy, damage, disrupt, or gain unauthorized access to a device. While some apps are coded and used strictly by cybercriminals, others exist in a gray area. These include monitoring software for workers, parenting apps, and other commercial spyware that have the potential to be used for criminal purposes. If the user has not granted their permission to have Spyrix installed and used, then it is malware and therefore prohibited under law.
How to remove the free Spyrix Keylogger from your Mac
You can remove this software manually by following a few steps. It's important to note that because the app usually runs in the background, once you power up your Mac, you first need to close the app to uninstall it.
Uninstall Spyrix manually
To remove Spyrix from your Mac:
Force-shutdown Spyrix by pressing Option-Command-Esc. This will launch the Force Quit menu.
Find Spyrix Keylogger in the list of apps.
Click Force Quit.
Go to the Finder window, and choose Go > Applications.
Right-click or hold Control and click Spyrix Keylogger.
Click Move to Trash.
Spyrix, like any malware or spyware, may also create temporary or permanent files hidden in folders, in your system, and in your cache.
Remove Spyrix using CleanMyMac X
Manually removing the program should prevent it from running. However, if you don't know how it got there in the first place, removing all traces of the program is a good idea. You can do this by using software like CleanMyMac X. It can delete any malware or malware-like application, including its leftover files, in just a few clicks.
To remove Spyrix with CleanMyMac X:
Download CleanMyMac X and open it.
In the sidebar, select Malware Removal.
Click Scan.
CleanMyMac X will detect the keylogger.
Select it and click on Remove.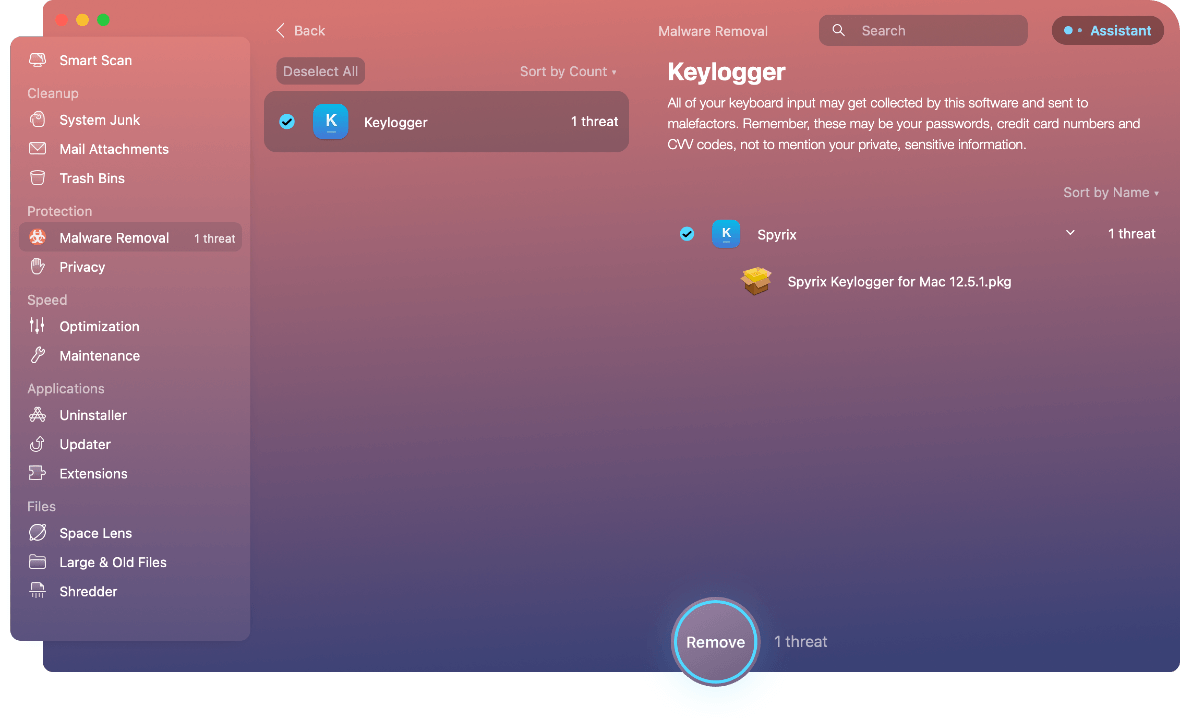 CleanMyMac X will detect the malicious app and all files it created, and you will be able to completely remove it from your Mac. CleanMyMac X can also help you detect other spyware or malware. Plus, if you run the System Junk scan, it will remove all outdated cache and log files, freeing up space for better performance.
It doesn't take a professional hacker to install spyware, keyloggers, and malware on your Mac or your iPhone (here's what to do if you're worried your iPhone might be listening to you). Today, countless sites offer apps and software that can not only breach your privacy rights but cause a lot of damage. Staying informed and taking the correct action is the best way to prevent someone from knowing what you type, seeing the sites you look at, recording your screen and video chats, and much more.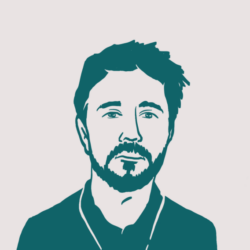 Ray Fernandez